NHL Mid-Season Recap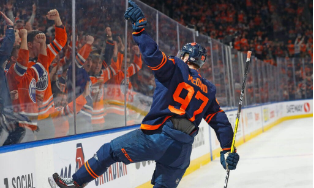 The NHL (National Hockey League) is past its halfway point in the 2022-23 season. Here is a recap of what has happened so far.
 The Boston Bruins lead the league by a landslide with a 37-5-4 record and 78 points. The Bruins' core is their captain and center, Patrice Bergeron; left winger Brad Marchand; and goal-scoring right winger David Pastrnak. Pastrnak has the second most goals in the NHL with 36 and has followed up with 29 assists. The Bruins have produced heavily on offense, followed up by great defense and goaltending from Jeremey Swayman and Linus Ullmark. The team has scored 177 goals and given up 96 for a +81 goal differential.
On the other end of the spectrum are the last-place Columbus Blue Jackets. With the recent acquisition of Johnny Gaudreau, many expected this team to flourish with Gaudreau and young talents like Patrick Laine and Jack Roslovic. Gaudreau hasn't produced many goals, only 13, but he has dished out 33 assists in 46 games. The Blue Jackets are 14-30-3 with 31 points and a -62 goal differential. This Blue Jackets team is very underwhelming. But, they have high chances of the first overall draft pick and grabbing the elite prospect of Connor Bedard.
Here are some individual efforts that have stood out in the NHL. Leading the league in goals and assists is the skilled center, Connor McDavid. He has amassed 40 goals and 48 assists, which is good for 88 points (goals and assists combined). Now for the best goalie; he is a part of the best team in the NHL. It is Boston Bruins goalie Linus Ullmark; he leads the league with a 1.82 goals-against average. Ullmark also leads with the most wins 24, and he has the best save percentage with 93.8%.
Now, for the St. Louis Blues. The Blues are 23-21-3, which is 49 points. They have scored 149 goals and have conceded 167 for a -18 goal differential. The Blues have had an up-and-down year starting with three straight wins followed by a long losing streak of eight games but eventually went back to their winning ways with a seven-game winning streak. The Blues are sixth in the Central Division and are three teams back of a Wild-Card playoff spot. The team's captain is still Ryan O'Reilly, a vet who is fading into his older years. He has not been producing much this year, with only ten goals and six assists. The team's leading scorer is Jordan Kyrou; he has 22 goals and 23 assists for a solid 45 points.
So, here we are, halfway through the NHL season, and the playoff push is still ahead.