NHL Offseason Recap and Predictions
The NHL season is just days away, and with the many things happening in the offseason, I decided to write about some of the major signings and trades across the offseason. From headline trades to evictions from arenas, this offseason has been no less than eventful. Obviously it would be impossible to cover everything that occurred over the offseason, so I have done my best to recap some of the biggest things you should know about.
Starting off in our hometown of St. Louis, Blues manager Doug Armstrong chose not to re-sign star winger David Perron, and he instead chose to sign for two years with the Detroit Red Wings. Perron was one of the Blues key players during last year's playoffs, racking up nine goals and four assists in 12 games. Blues backup goaltender Ville Husso also departed, being traded for a 3rd round draft pick also to the Red Wings. This year the Blues will rely on a younger core, headlined by upcoming stars such as Robert Thomas and Jordan Kyrou, who both signed 8-year contract extensions over the offseason. Jordan Binnington is expected to remain our starting goalie this year, with the Blues also signing veteran Thomas Greiss to back Binnington up between the pipes.
We all know that the rivalry between our Blues and the Chicago Blackhawks has been one of the most famed rivalries in NHL history, though it will be far less exciting to watch than it has been in years past. Chicago has been going through some rough seasons in the past few years, with some of their past stars such as Patrick Kane and Jonathan Toews slowly fading out of the spotlight as they age. This offseason has been of no help to them, as they lost both young star forwards Kirby Dach and Alex Debrincat. Debrincat went to the Ottawa Senators in exchange for a 1st and 2nd round draft pick, and Dach was traded to the Montreal Canadiens for picks in the 1st and 3rd round.
While staying in the Western Conference, the Minnesota Wild traded away 26 year old left wing Kevin Fiala to the Los Angeles Kings in exchange for a prospect defenseman and a 1st round pick in this year's draft. Fiala is a young player that averaged over one point each game this year, and he still has much more potential waiting for him in LA.
One team in the Western Conference that has gone through a lot of change this season is the Calgary Flames. They recently signed 2022 Stanley Cup Champion and unrestricted free agent Nazem Kadri to a 7 year, $49 million dollar contract. Kadri certainly made a difference while playing for the Colorado Avalanche during their Stanley Cup run this past year, tallying 15 points in 16 playoff games and playing with a broken thumb in the process.
Calgary was also a part of what many would consider the biggest trade of the offseason, receiving the skilled veteran Jonathan Huberdeau and star defenseman Mackenzie Weegar from the Florida Panthers. In exchange, Calgary sent St. Louis native Matthew Tkachuk, one of the most skilled players in the sport, to the sunshine state.
Tkachuk's exit from Calgary was heavily rumored after one of his best teammates, Johnny Gadreau, made the decision not to re-sign with the Flames for $10.5 million a year and instead signed with the Columbus Blue Jackets for $9.75 million a year. Gadreau later stated he wanted to be closer to his family, plus he will be making more in the United States than in Canada if taxes are factored in.
One of the headline stories of the offseason came from the entry draft, involving the first overall draft choice. This year the pick belonged to the Montreal Canadiens, and hockey fans across the league had been speculating who might be picked for months on end. It was heavily predicted that the player being picked would be Canadian center Shane Wright, so much so that the fans of teams straggling in the bottom of the standings had begun using the hashtag #painforshane all the way back in November of 2021. What ended up shocking fans was when Montreal announced that they would pick Slovakian winger Juraj Slafkovský. Shane Wright did not get to hear his name called to come up until the 4th overall pick, where he was selected by the Seattle Kraken. Later reports suggested that his dropping down so far was due to his cocky attitude during interviews leading up to the draft.
Yet another story making its way through the NHL is the new arena for the Arizona Coyotes. They had previously been playing in the city of Glendale, Arizona. The team is well known for its lackluster performance, along with their incredibly low attendance and lack of fans due to them being an ice hockey team in the middle of the desert. Because of this, the team had not been able to pay taxes on their arena in time, and were forced out by the city of Glendale. While they plan on building a new one soon, they will be playing for the foreseeable future in Arizona State University's small 5,000 seat arena, which has become a laughingstock in the world of hockey.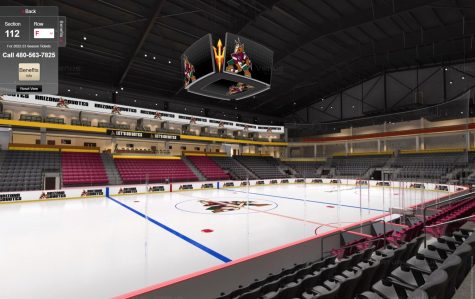 Lastly, one more thing I figured I would add is my standings predictions for each division, along with predictions for the major trophies in the league. They are as follows:
Central Metropolitan
Colorado Avalanche

1. Carolina Hurricanes

St. Louis Blues

2. NY Rangers

Minnesota Wild

3. Pittsburgh Penguins

Dallas Stars

4. Washington Capitals

Nashville Predators

5. Columbus Blue Jackets

Winnipeg Jets

6. NY Islanders

Arizona Coyotes

7. Philadelphia Flyers

Chicago Blackhawks

8. New Jersey Devils
Atlantic
Toronto Maple Leafs

Florida Panthers

Tampa Bay Lightning

Boston Bruins

Detroit Red Wings

Ottawa Senators

Buffalo Sabres

Montreal Canadiens
Stanley Cup: Carolina Hurricanes beat Edmonton Oilers in 6 games
Conn Smythe Trophy (MVP in the Playoffs): Sebastian Aho (Carolina)
Presidents Trophy (Best Record): Calgary Flames
Hart Trophy (MVP): Connor McDavid (Edmonton)
Calder Trophy (Best Rookie): Owen Power (Buffalo)
Vezina Trophy (Best Goaltender): Andrei Vasilevsky (Tampa Bay)
Norris Trophy (Best Defenseman): Cale Makar (Colorado)
Art Ross Trophy (Most Points): Auston Matthews (Toronto)
If you made it to this point, thank you for reading all of what I had to say. I hope that this was informative, and I cannot wait for another great NHL season to get underway.