Joy Division
June 4th, 1976, not quite yet legendary punk band, The Sex Pistols, played a gig at the Lesser Free Trade Hall in Manchester, England, to an audience of under 42 people. In that audience were Bernard Sumner, Peter Hook, and Ian Curtis, the founding members of what would become Joy Division. Inspired by the Sex Pistols, they immediately formed a band under the name, Warsaw, and auditioned for drummers, eventually recruiting Stephen Morris. Through their involvement in the Manchester punk scene, Warsaw members met Martin Hannett, who organized their first gigs and produced nearly all of their recorded music. In 1978, Warsaw released an EP (essentially a small collection of songs) titled Ideal for Living under their own label, Enigma. This was their only release not produced by Hannett. Though unpolished compared to their later releases, Ideal for Living demonstrates many key aspects of what would later become their distinctive sound. The pulsing, mechanical drum beats and bass-driven melodies that would define their later tracks are definitely present—just not yet fully in form.
Later in 1978, the group changed their name to Joy Division and played the first of several gigs at the Factory club in Manchester. Tony Wilson, one of the managers of the club, quickly signed them to his newly formed label, Factory Records. The contract, famously written in Wilson's own blood, stated "The musicians own everything, the company owns nothing. All our bands have the freedom to f%&@ off." In 1979, Joy Division began recording their debut album, Unknown Pleasures under Factory Records.
In July 1979, Unknown Pleasures was released. The album sold well in independent charts and in October, Joy Division was added to The Buzzcocks' tour, allowing the members to quit their jobs and become full-time musicians. Between 1979 and 1980, Joy Division also released five singles including "Transmission" and "Love Will Tear Us Apart," both of which are fan favorites to this day.After a series of successful gigs, Joy Division recorded and released their second album Closer in 1980. The shows following the album's release, however, were chaotic, with Ian Curtis (frontman) suffering an epileptic attack on stage at one show, and another resulting in a riot when Curtis was unable to complete the show while recovering from a suicide attempt. On May 18, 1980, as Joy Division's first U.S. tour was being organized, Ian Curtis committed suicide. With that, Joy Division's active life concluded. Factory Records continued to release alternate recordings and unheard songs from before Curtis' death.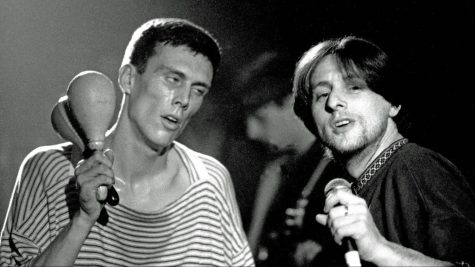 Only a matter of weeks after Curtis' death, the remaining members of Joy Division united again under the name, New Order. In 1981, New Order released their debut album Movement through Factory Records featuring the addition of Gillian Gilbert on keyboards and guitar. The album was not received well with the general opinion being that it failed to show musical progression following their initial single "Ceremony." New Order's second studio album, Power, Corruption, & Lies, however, was received extremely well and praised by critics. Since then the band has had multiple split-ups and reunifications, culminating in a lawsuit over the trademark of the band's name. The band managed to stay together in the end and to this day has released ten studio albums. New Order's combination of the old Joy Division elements of rhythm and bass-driven melodies with a more pop and radio-friendly sound has made them more commercially successful than Joy Division.
Both Joy Division and New Order were landmark bands in what is known as the post-punk period for which Manchester was a center of culture. Post-punk combines the do-it-yourself and raw simplicity of punk with pop, dance, experimental, and even jazz music taking influence from Andy Warhol's pop art ideologies. This musical mixture created the deeply rhythmic and ethereal-dance sound that defined post-punk. At the end of the 1980s this style shaped into what is known as the "Madchester" scene. Centered around the Hacienda night club which fell under the Factory Records umbrella, this "Madchester" scene, centered around DJs rather than live bands, proved to be the beginning of rave culture. Important bands from the Manchester post-punk/Madchester period include Joy Division, New Order, The Happy Mondays, the Stone Roses, The Smiths, The Durutti Column, and A Certain Ratio among a number of other groups.
Movie Recommendation: 24 Hour Party People
Playlist Link: https://open.spotify.com/playlist/7B7BB0cUUisXlz7bnNysrs?si=Ru_5XaZQSUmGhv3M2mgq-Q&utm_source=copy-link