The Unfinished Symphony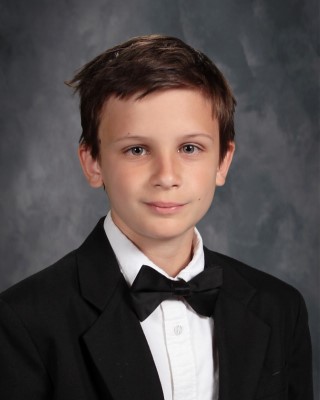 I am not a music lover. I don't think playing the piano for one year counts, so I don't even have a musical background. So why am I at an opera? My name is Detective Keaton Smore, and I was asked to be a bodyguard for a man. He called me the night before his symphony and said he was afraid someone was going to try to kill him. The caller was none other than composer and renowned violinist, Georgö Von Schvartz. He had recently left his former employer, billionaire Frenchman Chaar Lee Fæg Leblæånch, for a better job with the renowned pianist Michaelo Assiønisi. He told me that Chaar Lee Fæg Leblæånch had threatened to kill him if he left.
I was asleep during most of the concert, until the end of the concert when I was awoken by the sound of thunderous applause by the people there. I then joined in acting like I knew what was happening. I was trying to get to Georgö, but there were too many people crowded around Michaelo and Georgö. I finally managed to get through the crowd when I heard Georgö had gone to his dressing room. 
I went looking for his room when I heard a sound. I sprinted to the spot where it had come from, but there was no Georgö, only a piece of music.
The next day, I went to the place where the concert was held to help investigate. The suspects were there, Michaelo Assiønisi, Chaar Lee Fæg Leblæånch, a few random people, and me. I wasn't really a suspect, but everyone had to be a suspect. I first interrogated Michaelo.
"I am so sorry about Georgö's kidnapping, it is all my fault," I said.
"Yes, you are right, it is all your fault, I hold you responsible for my friend's kidnapping," said Michaelo.
"Um……"
"Do not worry, I will take it." he pounded his chest heroically.
"Um… great, do you know anyone who might want to kidnap him?"
"No, of course not, why would anyone want to kidnap him?"
"That is exactly what I was thinking."
Next I talked with Chaar Lee Fæg Lablæånch.
"I'm sorry for taking up your time with this," I said.
"Do not worry, my time is your time, and you have no time."
"Um, sure. It is my understanding that you threatened Georgö if he left you, is that correct?"
"Ah, we all are a little crazy sometimes, no?"
"So you did not mean that threat?"
"Ah, 'tis complicated."
"May I ask why he really left you?" I questioned, "because the money you gave him and Michaelo gave him wasn't a big difference."
"He could not stand me playing the instrument."
"But I thought he loved your cello playing?"
"He did, but not my combination of a saxophone and a bagpipe."
"You played both of them?"
"I made a new instrument, combining both of them."
"I see, thank you for your time."
"Do not worry, my time is your…"
"Goodbye," I said and hurried out as fast as possible.
Michaelo said that he was going to play the symphony Georgö was composing when he was kidnapped. The symphony was called "The Backwards Symphony," but Michaelo changed it to "The Unfinished Symphony." Michaelo invited me and Chaar Lee over to see what we thought of it.
"Here we go," said Michaelo.
He started playing but stopped shortly.
"This stinks! The notes go, G, E, A, F, G, E, A, F and on and on!" he yelled
I had to admit it, it stunk. Chaar Lee did not look impressed either.
"Honestly, I think it would be explosive," said Chaar Lee.
"The show must go on though, I will still play it tonight in my concert.
I decided to go see the concert. Michaelo started off with a few very good pieces, but he eventually went to the last piece, "The Unfinished Symphony." He started playing, and I could see that people were not very enthusiastic about it. The song was supposed to be 5 minutes long, but I think that the people could not stand it that long. About 4 minutes in, I thought the crowd was going to start booing.
"What is this music?" someone next to me said, "I mean G, A, E, F, over and over and over again, what is he thinking?"
I said, "something about it seems familiar…"
"WAIT!" I yelled as I ran down the stairs and tackled Michaelo off the piano stool as he was about to finish. 
Now the crowd looked interested.
"There is a bomb in this room set to go off," I said.
Immediately there were a lot of frantic people running around and screaming. I then calmly pulled the bomb out from under the piano. Many gasps went around the room.
"I know who planted this bomb here and who kidnapped Georgö," I said, "and I have the evidence to prove it!"
Who kidnapped Georgö?
Chaar Lee Fæg Lablæånch kidnapped him. It was given away in the song. The notes went G, E, A, F  which is Chaar Lee's middle name backwards which was given away by the name of the song. Detective Smore knew there was a bomb when Chaar Lee said, "Honestly, I think it would be explosive." The bomb was set to go off at the last note of the symphony, to destroy the evidence of the song, along with Michaelo. Georgö was found within a day.