The First Thanksgiving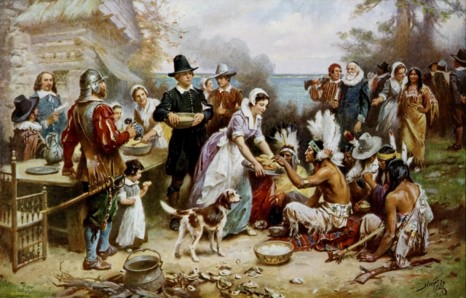 The Plymouth colonists and Wampanoag Tribe shared a feast in 1621 often recognized as the first Thanksgiving. The Plymouth colonists had arrived in the "New World" in September 1620 and established a village at Plymouth shortly after. Once arriving at Plymouth, many of the colonists died from contagious diseases and others starved during the harsh winter months. Squanto, a member of the Patuxet tribe, introduced himself to the colonists during the spring of 1621. He taught the colonists numerous tactics in order to help them survive. Squanto showed them how to cultivate corn, extract sap from maple trees, catch fish in the rivers, and avoid poisonous plants. Most importantly, Squanto was the reason why the European settlers formed an alliance with the Wampanoag Tribe, ultimately resulting in the first Thanksgiving. 
In November 1621, Governor William Bradford announced an autumn feast in order to celebrate the Pilgrims' first successful harvest. The colony's Native American allies were invited to this three day festival. The feast likely included freshly killed deer, assorted wildfowl, and a bounty of cod and bass. Wild turkey was also plentiful in the region and it is likely hunters returned with turkey for the feast. The vegetables included were most likely onions, beans, lettuce, spinach, cabbage, carrots and perhaps peas. Also, the Pilgrims were probably familiar with cranberries by the first Thanksgiving, but they would not have made sauces or relishes with them. Due to the diminished sugar supply in the colony, desserts were most likely not present at the celebration. 
The best account available about the first Thanksgiving is from an English settler, Edward Winslow, but he never mentioned the word "Thanksgiving" in his letter. Due to the lack of documentation available, certain controversies certainly exist about the first Thanksgiving. Many people dislike that the first Thanksgiving suggests a jovial relationship between the Native Americans and European settlers. There is definitely a history of bloody conflicts between the two groups that certain people believe is overshadowed by the concept of the first Thanksgiving. For decades, protesters have gathered on Thanksgiving overlooking Plymouth Rock, to commemorate a "National Day of Mourning." It will be extremely interesting to see our country's views on the concepts of the first Thanksgiving and Thanksgiving as a national holiday in the following decades.