Records for The Record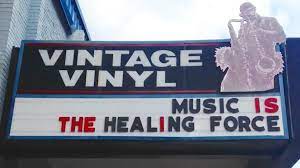 Records For The Record
By Graham Edmonson
For decades, record stores all around St. Louis have kept the local music scene alive and served as meeting places for any and all types of music lovers. In order to better understand the importance of these stores in our community, I interviewed Tom "Papa" Ray, owner of Vintage Vinyl; Neil Landow, manager of Euclid Records; and Jean Haffner, owner of the Record Exchange. All three of these record stores are located in the St. Louis area. 
One of the most important aspects of a local record store is the community built around it. Independent record stores have a special relationship with customers that big box stores do not. Tom Ray, owner of Vintage Vinyl, told me that in order to build a community, it is crucial to stand behind what you sell, treat customers right, and champion the local music scene. Independent record stores support artists in the community. This support can come in the form of having local artists perform at the store or simply selling an artist's records. In 2009, Tom was at a luncheon where Bootsy Collins, a major figure in funk music, was a guest. Over ten years later, Tom still recalls what Boosty told the group of record store owners. "Your stores carry the music," Bootsy said. "Your stores carry the culture of the music, of people such as me. That big box retail store, they don't know about Bootsy Collins. You do." Local records stores are crucial to keeping the local music community alive. Some of Tom's favorite current St. Louis artists are John McVey, Emily Wallace, and Bruiser Queen. 
An important aspect of the Vintage Vinyl community is the store's location in The Loop. People of all races, religions, and social backgrounds visit The Loop. This draws a diverse crowd of customers into the store and makes it a neutral gathering place for all music lovers. Tom told me that he always wanted to have a store where everyone was welcome and where everyone could feel comfortable and respected. At all of the record stores I visited, I felt this mission was definitely accomplished. 
Record stores are thriving now, but for a while things did not look so good. During the late '80s, '90s and early 2000s, records saw a major dip in popularity. With the invention of the compact disc (CD), best-selling artists stopped having their work pressed onto vinyl, instead opting for the smaller and more modern CD. However, things looked pretty different at the local level. It turns out that, at least for independent record stores, vinyl never really went away. Jean of The Record Exchange told me that they have always sold more records than anything else. Neil from Euclid Records echoed the same sentiment. He said that there has always been a market for good used records even if new vinyl was not being made in as much volume as before. 
However, vinyl has recently come back into favor among artists. Artists such as Taylor Swift have begun to put their music onto vinyl again. No one can be sure how far this resurgence is going to go, but it is very promising for the future of record stores. 
Each of the record stores that I visited has been in St. Louis for over 35 years. During that time, the invention of CDs and online streaming services has completely altered the music industry. To some people, it is surprising that record stores have been able to survive and compete with the new media. However, record stores did not survive by competing with new technology; rather, they survived by not competing with it. Jean from The Record Exchange told me that, as a record store, it is impossible to compete with streaming services. He said that in order to coexist with streaming services, he strives to remain separate from them and to only compete with himself.
As record stores cannot compete with streaming services, they must try to coexist. As the newest generation is discovering vinyl, more and more young people are getting involved in record collecting. One of the reasons for this is that vinyl provides a more complete sound (analog) than digital music, which only provides a sample of the sound.
Along with a more complete sound, liner notes and album artwork that come with a record provide people with a personal connection to the music. Vinyl offers a tangible quality that encourages a stronger emotional connection. All of these factors are helping young people get involved in record collecting. With young people involved in the record community, there will always be a market for vinyl. Record stores will be able to survive and continue to bring the gift of music to the community. 
————————Good stopping point, include the rest on the website—————————–
Independent record stores provide access to all types of music for the community, especially genres or artists that are not widely represented in the media. In 1997, a hip-hop duo called the Insane Clown Posse released their fourth album titled The Great Milenko. Only hours after its release this album was taken down by their label Hollywood Records (owned by Disney). The album was taken out of stores and the group's tour was cancelled. However, Vintage Vinyl still carried the record and even had the Insane Clown Posse perform a show at the store. When I asked Tom about the thinking behind this decision, he said that it just "seemed the right thing to do." It wasn't so much a matter of free speech, he said, it was more like freedom of access. He knew that the band had a following and he said that sometimes it fits the way you operate to be a contrary. Many radio stations operate by keeping the top 80 or so songs of the week on rotation, knowing that the average listener is not going to tune in long enough to hear the cycle repeat. Part of the beauty of a record store is that they allow people to explore lesser known music.
That is not to say that an independent record store will carry any album. There is definitely a line that cannot be crossed. I asked Tom from Vintage Vinyl if there was ever an album they had refused to carry. He said yes, there had been an album by a "racist, skinhead group" that they had refused to sell. Tom said that, in their entire 40 year history, it was the only time that the entire staff had strong feelings against carrying a record. In that case, it was clear that the record was offensive and should not be carried, but I asked Tom how they draw the line when it is not so obvious. Tom responded that Vintage Vinyl was not going to stop carrying James Taylor because he was cruel to his wife, nor Bob Marley because he beat his wife. It is important to realize that great artists are not necessarily great people. It is crucial to separate an artist's work from their personal life. This is not and has never been an argument at Vintage Vinyl. The importance is the message of the music, not the character of the artist. 
For decades record stores have played an important role in bringing music and togetherness to the community. As more young people get into vinyl collecting, the new generation is coming to love record stores and to love the connection to the local music scene that they provide. Record stores are a gathering place for all types of people who love all types of music and that is why they are a crucial presence in the St. Louis community. 
Visit St. Louis Record Stores at These Locations: 
Euclid Records: 19 N. Gore Ave., St. Louis, MO 63119
The Record Exchange:  5320 Hampton Ave., St. Louis, MO 63109
Vintage Vinyl:  6610 Delmar Blvd., St. Louis, MO 63130
Check out PapaRay's Vintage Vinyl Roadshow: 
https://mikeysmith.screenlight.tv/shares/H3UgWSXrhrNd9c0xkK6OyID09FJw31DQ