Priory's First Summer Musical
In August, Priory hosted its first-ever summer musical, She Loves Me, and I think the whole cast, myself included, would say it was a very fun experience. Now, getting up at seven in the morning during the summer, five days a week isn't what you'd call super fun, but it was worth it in the end. It was really cool to be able to switch from blocking a scene, to painting the set, to just hanging out with the cast at lunch. Working with a new manager and costume designer took a bit of time to get acclimated to, but in the end, it all ended up working out beautifully. 
Wearing a full suit in the middle of summer for three hours a night isn't exactly enjoyable, but again it was made up for with all the fun experiences I had with the cast and our director Dr. Erwin. Additionally, we had some people who didn't even go to Priory come out for auditions because we had such a shortage of guys that we would've taken the pizza delivery guy at that point. They were all home-schooled, so it was really cool to get to know them and how they went about their lives compared to the typical private school student. It's always fun to meet new people anyways.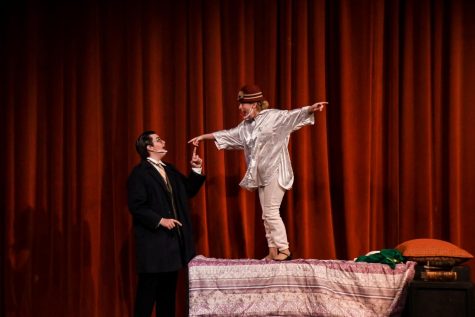 But still the best part of any show is the performance itself. Getting up on stage, all dolled up with the makeup and itchy clothing, ready to put on a show for an audience, is a feeling that I have trouble putting into words sometimes. Taking on a persona as someone completely different than yourself has always been a fun concept for me and it's always fun to tackle a new and unique role. Brainstorming with the cast about new ideas for character motivations and even just how one's character would walk never gets old.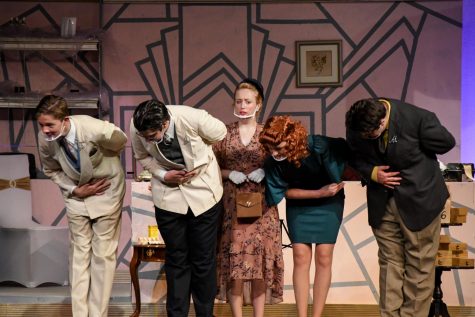 Just like any show, there are those moments where you are rehearsing the same scene for what feels like years and you're just about ready to tear all of your hair out. That happens a bit more often than I'd like to admit, but honestly it's a small price to pay for putting on a spectacular show and making all sorts of new friends. Just like any show, however, it does unfortunately have to come to an end. With each show, I like to think that I learned something new that I can add to my arsenal, and I really think I learned a lot from She Loves Me. It's also the only summer show I'll ever be able to do here because I am a senior. I know that I will definitely come out to see the show next summer, and I hope that anyone reading this will do the same. You won't regret it!