Umar Lee and Me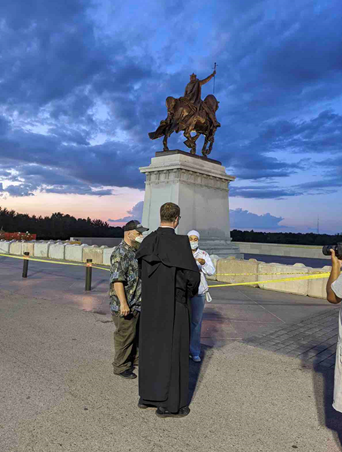 Saint Louis, as you know, has been in the news again. We were told repeatedly that protesters "clashed" over the removal of the statue of our patron saint. If you were following the news, you saw photographs of people shouting at one another. Exchanging threats.  Exchanging blows. Not much in the way of dialogue.
I wasn't there on Saturday when those things were photographed. But I was there every evening for the rest of the week to say a rosary with about a hundred or so Catholics.  Initially, I went there to support those who were praying at the statue. But I returned night after night because of the conversations I had on the way back to my car afterward—not with fellow Catholics, but with people who seemed to disagree with what I was doing.
David
  On Tuesday, as I was returning to my car, I was stopped by a man who asked me, "Would you mind having a civil discussion about that statue?"
  How can you turn down a request like that? Why would you want to? "I wouldn't mind a bit," I said. "I'm not entirely sure where I stand on Louis IX as a person, because I just don't know that much about him. But I do get very nervous when folks start destroying artwork, and I also figure that anger needs to be met with prayer. What do you think about the statue?"
  "I'm Jewish," he said, "and I want it taken down. That king of yours was responsible for genocide against Jews. You wouldn't approve of a statue of Hitler, would you?"  
      "No, I wouldn't," I said. "How many Jews did Louis IX kill?"
He paused in thought for a moment. "Honestly, I don't know," he said. "A friend told me that, and I just believed him."
His candor was so disarming, I started defending his position. "Well, you can't research every detail of everything you're told," I answered, "but if you trust the guy who told you that, then I'll go home tonight and look into this—I mean really look into it, not just find Catholic sources that I already agree with—and if it turns out that your friend had his facts straight, then…well…I'll come back and help take it down myself."
  He smiled. "I'm going to do that, too—go look into it, I mean.Oh! And by the way, my name is David."
  I talked with David for about half an hour and we couldn't seem to find anything else that we disagreed on. "It's my birthday," he said as we parted ways.
  "Happy birthday," I said. He smiled again, and that's the last I saw of him.
Janet
  The next evening, as we were praying, I noticed two African-American women standing at a distance, watching us. I don't think they were there to protest, but one of them looked angry. Or maybe she was just uncomfortable. It was hard to tell. I didn't quite know what to say as I walked past, so I just nodded and said, quietly, "You know, black lives really do matter."
  Suddenly, she didn't look angry so much as very, very sad. She looked like she might be on the verge of tears. "Thank you," she said, "And you know, all lives really do matter."
  And then, somehow, we were smiling at one another.  She introduced herself as Janet.  "I'd hug you," she said, "but…you know…the whole Coronavirus thing."
  "I'll take prayers instead," I said.
"You got them," she answered, "Pray for me too."
Saint Louis, King of France
  I had conversations like this every night, and not once did we come to blows. No one threatened me. I talked with an African-American man and his daughter, I talked with another Jewish man, and I talked with two gay joggers (I'm assuming they were gay because one of them wore a t-shirt that said, "I'm gay" on it). And in every case, we parted as friends. Not just friendly, mind you, but friends.
  Now…for the record, Saint Louis did have copies of the Talmud collected and burned.  As a twenty-first-century Catholic, I am not proud of that. The Jewish people are, in the words of Pope Benedict XVI, "our fathers in faith". So it's hard to imagine a saint doing such a thing.  And Saint Louis did lead two crusades against Muslim armies in the East. If he did those things today, I'd agree that he was, as his critics suggest, antisemitic and Islamophobic.
  But, given that Europe had been at war with the Saracens for several hundred years, I think he can be excused for fearing them. They were serious warriors. And perhaps we can find fault with Saint Louis for not establishing freedom of religion in thirteenth century France; but there was no freedom of religion anywhere in the world until the founding of Rhode Island.  So I'm not sure he could have known better. Still, for the sake of my friend, David, I decided to keep reading. I hope he is somewhere, reading up on Saint Louis as well.
BUT THEN SUNDAY HAPPENED
When I arrived at the statue around a quarter to seven the following Sunday, there were over a thousand people already there. Most were praying their rosaries, but there were also banners and flags and armed 'security.' It felt more like a rally than a prayer. I have nothing against rallies. But I was just there to pray, not protest, so I found myself on the fringe of the group. One person I talked to mentioned "a line in the sand," another spoke of "standing up for ourselves," so I backed further and further away. I had about a hundred copies of the Prayer of Saint Francis, and I resolved to read the prayer quietly to myself: "Make me a channel of your peace. Where there is hatred, let me sow love…"
            I backed so far up that by time the rosary ended, I looked around and noticed that no one around me was praying. These didn't feel like "my people"—they were a strange mix of hipsters and Muslims and inner city youth: blue hair, piercings, long beards and hijabs. Dressed in full monastic habit, I felt out of place. I turned to the kid on my left. He had long dreadlocks, and his arms were covered in tattoos. "So…what do you think?" I asked.
            "I think there are some racists in that group," he answered.
            I looked back at them. "Well…there probably are," I said. "But then again, I think you can find bad people in just about any group."
            He nodded.
            I smiled, though I doubt he could tell because I was wearing a face mask. Pretty much everyone was wearing face masks. No one wants to get sick. "You're not here to pray the rosary?"
            "Nope. You some sort of religious person?"
            "Well now," I said, "are you stereotyping me just because of the way I'm dressed? A man can't wear a black hoodie in public any more without being judged?"
            He laughed, and the kid on his left laughed, and just like that, we were talking about racism and religious convictions and white privilege and police brutality and Ferguson and Black Lives Matter and Marxism and class warfare… He admitted that he had never been roughed up by the police, and I admitted that his dreadlocks and tattoos kind of frightened me.  "I'm not a Marxist," he said, "and I don't really care whether that statue stays or goes. I just wanted to be here in case some of these white nationalists get out of line."
"This Umar Lee character, though…he's kind of a bad guy, though, right?"
"Ask him yourself," my friend with the dreadlocks answered. "He's standing to your right."
"Nice to meet you," said the burly, bearded, megaphone-wielding man to my right.
I figured at this point, I had nothing to lose. "Mister Lee, I read online that you are a violent, evil man."
"And you believe everything you read online?"
"You were in the news."
"And the news always gets the Catholic Church right…" he answered.
He had a point.
"Do I seem like a violent, evil man to you?"  He looked surprisingly calm.  Not quite the 'radical Islamic extremist' I had read about.
"Honestly, the beard scares me a little," I said, "but you seem okay to me."
He nodded, smiled, and moved to pat me on the shoulder, then thought better of it.  Coronavirus.
"I'll pray for you," I said.  
"You can pray with us," he answered, and before long, I was handing out copies of the prayer of Saint Francis. The Muslims in the group were particularly enthusiastic. Someone handed me a bottle of water. Then a megaphone. I looked around. There were photographers present. I could imagine the look on my abbot's face if my photo made the news the next day leading a protest.
"Honestly," I began, "I don't think I agree with most of what you stand for. I came here expecting to be yelled at or spit on—or worse. And even now, I'm a little scared. But Jesus told his followers "whoever gives only a cup of cold water to one of these little ones to drink because he is a disciple… he will surely not lose his reward." And a few minutes ago, one of you offered me exactly that. So if you're here to pray, then I'm honored to pray with you.  Because I do believe that black lives matter."  Then we all prayed together:
"Lord, make me an instrument of your peace:
where there is hatred, let me sow love;
where there is injury, pardon;
where there is doubt, faith;
where there is despair, hope;
where there is darkness, light;
where there is sadness, joy. 
O divine Master, grant that I may not so much seek
to be consoled as to console,
to be understood as to understand,
to be loved as to love.
For it is in giving that we receive, 
it is in pardoning that we are pardoned, 
and it is in dying that we are born to eternal life."
            I still don't particularly like what Umar Lee has to say. And I'm guessing he's not a big fan of Catholic theology. But a week later just outside my hermitage, he and I sat down to have coffee. So maybe there's room for dialogue after all.