Cardinals' Offseason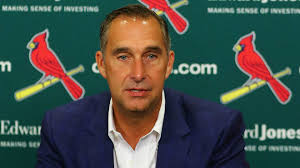 Before the past couple of weeks, it seemed as if John Mozeliak and the Cardinals' front office would have a very quiet offseason. After making a splashy trade for Paul Goldschmidt in 2018, it seemed they deemed they had done enough to keep their fan base from going for their heads. However, that's when the "Winter Meetings in February" started for the Cardinals. They first brought back Adam Wainwright on a one year deal to see if he could squeeze out one more year. Before they brought him back, the Cardinals were the only team in the major leagues who had not signed a free agent. However, the Cards got involved in the Hot Stove at the beginning of the month, making a flurry of deals. Now, the Cardinals are looking ready to contend for another championship.
John Mozeliak, while he has his troubles with free agency, is a trade master. He has traded for two stars in Paul Goldschmidt and Nolan Arenado (the recent addition from Colorado) in the past three offseasons. For these two players, Mozeliak has given up one very good, young player in Austin Gomber and then multiple backups and low-level prospects. Now, after these trades that were two years apart, the Cardinals' infield is one of the best in the big leagues. Arenado's numbers are much lower than they are on paper though, so the Cardinals should expect a little less production from Arenado compared to his years in Colorado. Coors Field, the Rockies' home park, is a hitters' park. Since it is in Colorado, the elevation helps the ball travel much further, and therefore, hitters have a much easier time than they would in other parks. While he is an impact defender everywhere, Arenado's offensive numbers will certainly take a dip. In 2019, he hit a whopping .351 at Coors Field but hit .277 on the road. That is a very significant dip, and while .277 is still a respectable number, it may explain why St. Louis did not have to give up much to get the perennial all-star and money on top of it. Arenado will still be an impact player in St. Louis but expect him to have a couple of down years until he gets used to playing 81 games in St. Louis rather than 81 in Colorado.
Alongside Arenado, the Cardinals will have Tommy Edman (2B), Paul Goldschmidt (1B), and Paul DeJong (SS) manning the infield. Even after the Brewers snatched up Kolten Wong in free agency, the Cardinals are still left with one of the best infields in the major leagues. Edman has been in search of regular playing time since he came to the majors as a utility man, and this year he will finally get to show he deserves time on the field. He will not have as many flashy defensive plays as Wong did at Second Base, but Edman is no slouch defensively. Goldschmidt had a down year in his first year as a Cardinal, but last year (although in a shortened season) he put up similar numbers to his years in Arizona which brought attention to him from the Cardinals. DeJong will consistently hit around league average but will bring power as he hit 30 home runs in 2019. And of course, Mozeliak just brought back Yadier Molina on a one-year deal, hoping Yadi can use his leadership and defensive prowess to lead the team to another St. Louis championship.
The outfield for the Cardinals is a different story. At this point, after the Cardinals traded free-agent-bust Dexter Fowler to the Angels, it seems Dylan Carlson, Harrison Bader, and Tyler O'Neill will see the most time in the outfield. Each player brings a different aspect to the outfield, but at this point, they all seem too one-sided. Bader is a great defender, O'Neill hits for power and strikes out, and Carlson is an up-and-coming star who is supposed to do both. At times, all of these players have shown they can be elite defenders AND hit at the same time, but for the Cardinals to contend, they all need to do so on a consistent basis.
Mozeliak pulled another trick out of his sleeve. He traded for an amazing player for dirt cheap. The Cardinals will definitely miss Austin Gomber, but they will much prefer Arenado to the inconsistent Matt Carpenter, who is another player Mozeliak paid loads of money that did not work out in the long run. The Cardinals have not won a World Series since 2011 and have not been to one since 2013, but after a strong finish to an odd offseason, they are primed to make a solid run at a championship win.