Just a Bad Day. . . Or a Little Bit Worse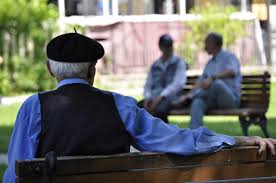 Some may argue that COVID-19 is not as serious as it is made out to be by the media, as it "only" has a 1-3% death rate or only really affects people with underlying conditions. The claim that it affects only a small number of people is not only untrue, but it is also damaging and harmful to others, particularly the elderly. This is a harmful virus for the elderly, as the risk for severe illness with COVID-19 increases with age. Eight out of ten COVID-19 deaths reported in the U.S. have been in adults 65 years or older. Severe cases require hospitalization, intensive care, and in the worst cases, death. With these statistics, it makes sense that older adults are among the most highly affected groups during this time. It does not only have negative effects on physical health but mental health as well. One in four adults ages 65 and older report anxiety and depression during most weeks since the onset of the pandemic, which is an increase from one in ten older adults who reported anxiety and depression in 2018. 
After nine months of the pandemic, almost everyone knows someone who has been affected by COVID-19. This is especially true of older folks, who often know someone their age who has suffered or died from COVID-19. As a result, many have chosen to practice social distancing in order to stay safe, which often means much more time alone and a significant change in routine.
Mike Barron, 84, and Ann Barron, 71, a married couple living in Creve Coeur, have experienced this virus together. As Mrs. Barron explains, "Mike originally thought 'I'm in good health, I won't get this.' It took him a while to come to the realization that this is dangerous." Mr. Barron has a sister with diabetes, and he now realizes, "She would pass away if she got it." As a result, they have worked hard to stay safe by mostly staying home and isolating themselves. Dedicated Catholics, they have not attended Mass since the beginning of the pandemic, and they no longer eat at restaurants. "It was many months before we even tried carry out," admits Mrs. Barron. Their most significant adjustment, however, has involved Mr. Barron's work. With the help of his wife, Mr. Barron has continued his work as a lawyer. "For the last seven or eight years," he explains, "my office was across from the Galleria and that is where I met my clients." Due to his more advanced age, however, Mr. Barron chose to not risk exposure to the virus by visiting the office, even though other lawyers continued to meet there. As a result, he met with clients outdoors during the summer, and has now converted his garage into a make-shift "conference room," and he has moved essential office equipment into his home. Mr. Barron admits he is surprised this arrangement has worked well, and he has continued to serve his clients.
Fr. Benedict Allin, a self-described "octogenarian," lives with about two dozen other monks in the Abbey of St. Louis and St. Mary, in Creve Coeur. He is one of the older monks living there, and Fr. Benedict knows of a few priests who have died. Fortunately, no monks at Priory have been sick from COVID-19, but they are frequently asked to pray for those who have contracted the virus. He admits that their somewhat sequestered life as monks has not changed too drastically. "One advantage of being a monk is the daily Horarium," he explains. "This includes the regular schedule of the Divine Office, Mass, meals, work, and times for recreation." Although all of the monks have remained mostly isolated, Fr. Benedict must be extra careful due to his age. He no longer visits parishioners in their homes or the hospital, and he says Mass less frequently, now only once a month. But he tries to stay connected to the school as much as possible, even joining Mock Trial club meetings via Zoom. For his close friends and family, he uses email and text messaging. "With good friends with whom I communicate frequently," he says, "it becomes necessary to use the phone from time to time. Right now there are few opportunities to see people off the property, but it is possible for someone to come here [to the monastery], and we meet them outside or in the church for a conversation." 
Mr. Norm Mohrmann, 83, my grandfather, lives by himself in Hazelwood.  He also has friends and loved ones who have been hospitalized and even died because of this virus. Mr. Mohrmann's neighbors, a married couple he first knew as elementary school classmates, both died the same day in the hospital. A priest friend of his died in a retirement home where the virus affected many, and his daughter's father-in-law is currently hospitalized. Before the pandemic, Mr. Mohrmann attended daily Mass at St. Martin De Porres parish church. As part of his routine, he joined other parishioners for coffee and fellowship at a nearby McDonald's every morning after Mass. These rituals ended when the COVID-19 began, and Mr. Mohrmann ceased going to Mass or gathering to socialize, just as Eucharistic adoration and Knights of Columbus meetings were also canceled. Now that his parish is again offering Mass to the public, with considerations for social distancing, he has started to attend, though not on Sundays when it is more crowded. He does not socialize with his fellow parishioners, however, since most of his friends are older and some already have health concerns. He worries that their regular fellowship might be a tradition that is lost forever. Mr. Mohrmann has also missed seeing his large family of five children and eleven grandchildren with the same regularity as before the pandemic. But he's thankful his family has figured out ways to visit at a safe distance. For instance, his children and grandchildren frequently visited during the spring and summer to help with yard work. "The big thing is that I'm blessed with a great family," he says. "They picked up food and we sat outside on the front lawn when it was warm enough or in the garage, and we would share a meal. It was wonderful."
Mr. Mohrmann's sister, my great-aunt, Rita Marshall, 81, of Weldon Spring, also adheres strictly to safety measures and social distancing. A life-long faithful Catholic, she has not attended Mass at her parish, St. Joseph's in Cottleville, for the past nine months. She tries to experience the community feel of praying the rosary and watching Mass on the Catholic cable channel, ETWN, but she finds the constantly changing schedule difficult to follow. "I don't go anywhere," she says. "I have a friend from the parish who comes and does my grocery shopping for me." She and her brother Norm grew up with twelve children in their family, and for the past few years, brothers and sisters and spouses have gathered monthly for a "sibling lunch" at a restaurant or someone's home. Mr. Mohrmann and Mrs. Marshall both consider these gatherings a highlight of each month. But they are all in their 80s or older, and so it has been difficult for them to meet safely during this time. "You feel like you're confined," she explains. "I feel I have missed all the important family functions we usually celebrate together. I feel it has put a damper on all that. When I think about it, it really makes me angry sometimes."
Joe Gleich, retired Priory teacher and coach, is 70 years old and lives in Chesterfield with his wife Joan. He has very close relationships with people who have contracted the virus. His sister, her husband, and her son all came down with COVID-19, as well as one of Mr. Gleich's brothers, who was nearly hospitalized. In addition, a high school friend died of COVID-19 complications while other friends and their spouses have contracted COVID-19. One friend experienced severe weight loss and ongoing neurological complications. "There have been a lot of prayers and Masses offered for friends who have been ill," Mr. Gleich says. 
Like so many others, Mr. and Mrs. Gleich miss their busy social life, frequent meals in restaurants with friends, and travel. But the Gleichs have adjusted their day-to-day lives so they can remain active and connected to others. In addition to walking their labrador many times a day, they have "added a three-mile walk with friends of ours at 6:30 a.m. every Wednesday, each time on a different trail." They have also tried to host small groups of friends in a safe, socially distant way: "We have a large patio and set up three tables, 15 feet apart," Mr. Gleich explains. "We use this arrangement now to invite two couples over at a time for patio dinners throughout the summer and fall. We have tried to have sunset walks with my brother and his wife twice a week. We end them on our patios with a small glass of wine and conversation. We also do a lot more cooking. Mrs. Gleich has become an excellent chef." 
The Gleich's are very service-oriented people, and to remain in contact with some of their family members, they helped with special projects. "Early on we decided to rebuild my sister-in-law's screened-in porch," Mr. Gleich explains. "That meant my wife Joan and I worked with my brother daily for almost a month. We saw Joan's sister every day, so we were in the same bubble. We did much the same with my youngest brother, doing five separate outdoor projects both at his house and at his place in the country." For his other family members, he did FaceTime or contacted them by way of phone calls. 
Although these people have made do with a bad situation, they all have truly missed some of the most meaningful aspects of their lives. Mr. and Mrs. Gleich, who both turn 70 this year, eagerly wait for a return to travel. He says that after spending nearly a year planning international trips, their plans had to be canceled. Despite being able to take a few trips by car for the destinations that could be reached in one day, it is disappointing not to be able to do something you love so much. The Gleich's have "also missed attending the marvelous monthly wine dinners at the Missouri Botanical Gardens."
Travel is an important way for many people to explore the world and have adventure and fun in their lives. For others, it offers the opportunity to be with family and friends, celebrating milestones and holidays; attending funerals; and reinforcing family bonds. But with pandemic guidelines constantly changing, travel plans have had to change as well. Even for those in the monastic community, uncertainty is prevalent during these times. Fr. Benedict, who hopes to travel to visit family and friends, states, "The number one difficult problem is the lack of assurance in planning for the future."
Both Mr. Mohrmann and Mrs. Marshall miss large family gatherings and holiday celebrations the most. The holidays are usually considered a time of relaxation and joy, and a time to see family, but for older people during the time of the coronavirus, it is very difficult to do these things. "In the case of older people, we look forward to the big holidays because it is a chance to see everyone," Mr. Mohrmann says. Living alone can be a challenge, but he says it's more tolerable when you have family gatherings to look forward to. "We just went through Thanksgiving and to me, it was a disaster for the family," he explains. "Every year, aunts, uncles, and all of the grandkids get together at my house, and we have a great party. I really feel this whole pandemic has broken down the traditions that have been running in the family for 30 or 40 years. It feels like a disaster. Families are now all sitting at home on major holidays like Christmas and Thanksgiving, instead of getting together." For over fifty years, Mr. Mohrmann and his siblings and their children and their children have also been gathering at a rented hall for an annual Christmas party. This year, for the first time, the family celebration has been canceled. "How many Christmasses and holidays do I have left?" Mrs. Marshall wonders. And Mr. Mohrmann fears that many such traditions may be lost forever. 
 The Barrons have three children, but two live out of town, so they have not been able to travel to visit them. In fact, they have hardly been able to see their son who is in town. In the past, Mr. Barron stayed close with his son and grandson by playing tennis with them, but he is unable to do that now because of the coronavirus. "I now play with a machine that sends tennis balls to me," he says. Mrs. Barron is also unable to see her family because they live in Florida and Texas. Mrs. Barron says what she misses the most is the "social aspect of going out with friends." For instance, in addition to not attending Mass, she misses the opportunities to visit with friends after the liturgy.  
Despite the disappointments and sacrifices resulting from the pandemic, people can find new meaning and blessings in their lives. For the Barrons, this pandemic has made them more grateful for each other as they have become dependent on each other. Mr. Barron appreciates that Mrs. Barron does all the grocery shopping and serves as "an excellent editor" for his legal paperwork. They have also taken up daily walking. Mr. Barron even jokes that, despite not playing tennis, his daily walks have allowed him to fit into pants he has not worn for years. More importantly, they have explored new parts of the neighborhood and met people whom they would never have otherwise met. "When all this goes away," she says, "I hope we can call the new friends we have made and invite them over. In a way, this pandemic has been a good thing from a social point of view."
For others, this has been a time of productivity and self-reflection. Fr. Benedict says, "I do continue learning Spanish. . . . Moreover, I confess that I have learned a vast amount about the US Constitution." He also suggests that the pandemic might help the monastic community in unexpected ways: "The community has had many sessions of self-examination, and these have proved fruitful in the long run." He adds, "Since we have to rely on one another, there have been fun occasions scattered throughout this long pandemic." 
This is also a good time to appreciate and reach out to others. Rita Marshall says, "I feel angry about the limitations sometimes, but other times I relish when I can see people. It makes me appreciate others more, and I reach out to people by writing letters. "I like writing to people and have never realized that about myself." She particularly enjoys writing to her great-niece, Emma, and has gotten closer to her family by writing letters and sending cards. "My son and grandson often visit to play cards," she says, "which is great because it helps when I know I have something to look forward to."
Joe Gleich agrees, "Learning the true value of family and friends has been a real plus."  As usual, Mr. Gleich shows his appreciation by reaching out to others.  The Gleich's have not celebrated the holidays with extended family, but instead, they made dinners and delivered them to his family for Thanksgiving and will continue doing so for holiday birthdays and Christmas. "We like cooking," Mr. Gleich says, "but we are not willing to risk our health with different social groups under one roof."
Despite the disappointment and loneliness, these challenges can also lead to spiritual growth. But for those of even the most devout faith, it is sometimes difficult to remain faithful during such difficult times. Mr. Mohrmann, who has made a habit of going to Mass every day, now finds this more difficult to do with the changes and restrictions that have come about from the coronavirus. When asked what the key is to staying faithful during the pandemic, he says, "It is difficult at times. I don't know what the answer to that is. Everyone thinks it is just a bad day, but it is a little worse than that. I have a little thing that my grandkids gave me that says 'Pray Often,' and I do this to occupy my mind with the Lord and put the rest of the stuff in the back of my mind." Rather than closely follow the news about the current political controversies or the number of coronavirus deaths, he spends his time attending Mass, praying the rosary every day, and meditating on spiritual reading.  "For me, I pray harder than I used to, and I believe that is one of the effects of what is going on out there." 
When Rita Marshall reflects on her struggle with her faith, she says, "I ask for answers sometimes, but on some things, I haven't gotten them yet." Despite how unpredictable things are at the present moment, she believes it is important not to give up hope. She has focused her spare time on reading and meditating. "I feel I have gotten closer to God because I have been reading books about the faith and I have also done journaling. I haven't minded it because I have really gotten closer to Him." 
Although our elders are most at risk from COVID-19, they are also wise in their approach to coping. It is natural to feel isolated and frustrated, but they remind us to look to each other for connections. And even more importantly, they encourage us to turn to God to help get us through this difficult time.