Wrestling and the Coronavirus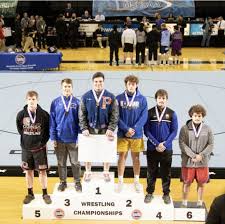 Well, it is that time of year again.  The leaves have all fallen, the Thanksgiving leftovers are all finished off, and the radio stations are playing those same Christmas songs from your grandpa's childhood, all making way for the real reason for the season: wrestling.  Yes, it is back and before we get into how it has changed due to the coronavirus, I would like to give a quick overview of the team's success of late.  We have a dual record of three wins to two losses, which is extremely hard with such a small team.  What is even more exciting, however, is our freshmen, who are all currently undefeated.
Now I know what you are thinking, "But Adam, how could you guys have a season with all the current restrictions on sports?  Wrestling seems like it's the last thing that should be allowed."  Well as much as the pandemic and County Executive Sam Page's rampage (see what I did there) has complicated our season, we have taken many measures to make wrestling as safe as possible.  
Besides the usual spraying down of mats and self-sanitization, we have divided ourselves into pods of roughly four to five members, making contact tracing easy. We have also split these pods into two groups, one practices while the other works out and then switches halfway through.  However, these are all minor inconveniences when compared to the main restriction put on wrestlers: mask wearing.  
Not only do we have to wear masks in practice, but more importantly, we need to wear them when competing against other teams (inside St. Louis County).  Now this may not seem like a big deal to many so to put it in perspective, imagine dead sprinting with a rag over your face.  Mix this with the sweat and spit that soak your mask and you are essentially waterboarding yourself.  Senior David Mohrmann states that, "Wrestling is a sport that requires a lot of fitness so I can outlast my opponent, but it is very difficult to get good breaths in because I need to wear a mask. Because of this, wrestling is a lot harder."  
The final coronavirus-related change to the wrestling program is that huge restrictions are placed on the amount of spectators let into the meets.  But let's not kid ourselves, you were not gonna come anyway.  Speaking of which, we are giving anyone who comes to a Wrestling meet outside of St. Louis County a lock of former wrestling legend Dalton Bingman's hair. Regardless of these obstacles, you can be sure that the Priory wrestling team will put on a great performance for the rest of the season and hopefully things will get back to normal next year.