Quick Quesadilla Fun!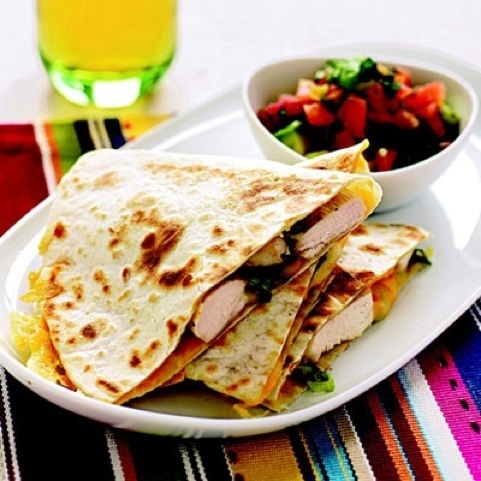 I know that all of you have been patiently waiting for this article. Some of you have probably been lost without my recipes, and I just want you to know that I have not gone anywhere. Let me tell you, I have completely been blowing off all school related activities to test some quick and easy recipes for you guys. As you all know, Priory has gone virtual for the safety of our community and the worst part has been this whole shortened lunch period thing. Forty minutes for lunch?!?!?! Father Cuthbert please explain the logic here. How is one supposed to prepare beef Wellington in such a short period of time? The answer is, we cannot. I tried and it caused me to miss two periods of class, it simply does not work. So, I began to wonder what the next closest thing is. The answer was clear, my quick and easy healthy chicken quesadillas (I know I promised a healthy fried chicken sandwich but this will have to wait). I have been making these things almost every day and let me tell you, they are unreal. Alright, well I will not make you wait any longer, here we go. 
Ingredients
A chicken breast 

Two tortillas (Mission makes a carb balance one that I love. It is 70 calories and amazing.)

Your favorite hot sauce (I know many of you will use Frank's Red Hot and it is great, but I highly recommend Valentina's Salsa Picante, this stuff is unbeatable.)

A quarter cup of fat free cheese (You can use any cheese but the fat free one for a quarter cup is 45 calories and 9g of protein. Does it get better than that? Also I am not a huge cheese fan, so feel free to use more.)

Favorite seasonings (Have some fun here and play around with it. I am currently just using Trader Joe's Everything but the Elote seasoning because with the time crunch it is easy.)

Cilantro (This adds some great flavor and a nice color, but if you do not have any on hand it is no big deal.)
Steps
Season the chicken with your favorite seasoning. You can use some oil here to make the process easier if you want. However, I recommend NOT cutting the chicken. The more you cut chicken the drier it gets and this meal requires the highest quality of chicken. 

Air fry the chicken for 12 minutes at 400°. Make sure to flip the chicken around the halfway point to get a good cook on each side. You could definitely use an oven. I just use the airfryer because it is quicker. At the end of the day just make sure the chicken is cooked to around 155-160 degrees. Before you panic, I know people say 165° is where chicken needs to be, but this is a quick way to get dry chicken. Take it out at around 155-160 degrees and let it hangout for a few minutes.

Now shred the chicken with two forks and coat it in your hot sauce.

Time to assemble the quesadillas. Line half of each tortilla with some cheese, then place down the cilantro, and then place down the chicken. Now fold each tortilla in half.

Set the tortillas on a pan around medium heat with the cheese side down first. This gives the cheese a good melt and the tortilla a nice crunch and color.

Flip the tortilla and give it a nice crisp on the other side. 

Finally, slice each quesadilla diagonally and enjoy!
Nutrition Facts
I am not sure how many of you care about the nutritional breakdown of the meals I am making, but I bet some of you do. Being locked inside all day, it is important for us to always remember to stay healthy. If you make this meal exactly how I did it will come out at 446 calories, 41 grams of carbs, 69 grams of protein, and 11 grams of fat, and remember these are the facts for two quesadillas. All in all, this is a very healthy and quick meal that I hope you all enjoy.