Marlin's Man: The Professional Sports Fan
You probably know some pretty big sports fans. It could be people who just love their hometown team or someone who just loves to watch the sport in general. Families and friends bond over sports. It's part of what brings this country together. No matter the case, I guarantee you haven't met any sports fan as diehard as the Marlins Man. Marlins Man pushes the boundaries between sports fandom and downright obsession.  In this article, I will be discussing the backstory of this fanatic, his history as a fan, and all the wild experiences he has come across.
Marlins Man, also known as Lawrence Leavy, was born in 1956 in North Miami, Florida. Lawrence attended the University of Miami School of Law, where he got his degree in law.  He then founded a Worker's Compensation firm after graduation and has been working there ever since. His company is centered around Davie and Jacksonville, Florida, but nowadays he does work from whichever hotel he happens to be staying in. However, I wouldn't be writing an article about a man whose only job is a lawyer. I'm writing about his other career: professional fan.
Lawrence originally bought his first season tickets for the Marlins in 1993, the team's first season in South Beach. Back then the team was referred to as the Florida Marlins, as opposed to the Miami Marlins. The team also wore teal pinstripes on their white jerseys, a rather boring brand of colors. However, when the team moved to a new stadium, Marlins Park, in 2012, the team also changed the team colors from teal to orange. Lawrence attributes much of his fame to this color switch.
His career as a famous Marlins fan started in 2012. The story goes that he was set to attend a Miami Heat basketball playoff game, and the team would give a free white t-shirt to every fan at the game to make a cool color scheme in the building. It is said that his shirt was stolen, leaving him with his big orange Miami Marlins jersey from the baseball game he went to previously. He ended up sticking out like a sore thumb when he was the only person not wearing white, especially since he was sitting right in the TV view. He clearly enjoyed standing out with his Marlins merchandise, because he was seen just months later at AT&T stadium in San Francisco in Game 4 of the 2012 World Series, sitting directly behind home plate. The next day, he was dubbed his nickname "Marlins Man" by a Golden Gate recreational park ranger, which he is still known by to this day.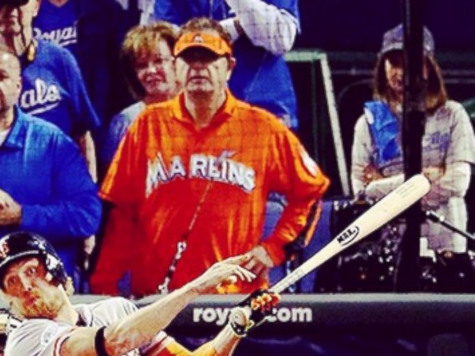 After that, his "job" as a sports fan really started to take off. Marlins Man became a household name. Now, he has tens of thousands of followers on social media, and people are always asking to take selfies whenever they see him. He has even been featured on MLB: The Show. Not all of his feedback has been positive, however. In the 2014 World Series, he was at Kauffman Stadium, home of the Kansas City Royals, and as always, he was wearing his bright orange jersey right behind home plate. This irritated the Royals staff, and they were willing to pay him off to sit in a box suite instead. Marlins Man, being the true fan that he is, refused their offer, and sat right in the spot he paid for. People have also tried to impersonate him, wearing his same jersey behind home plate, but none are as committed as he is. In that same year, he was quoted saying he spent about 300 nights a year just going to sports games.
In total, he has gone to 27 Super Bowls, 94 World Series games, 90 NBA Finals games, hundreds and hundreds of MLB and NBA playoff games, as well as several horse racing events as well. It's quite insane.
The thing is, even though he is without question the most famous Marlins fan on earth, I don't know you can even call him a fan of the team. In 2018, he declared to the media he is done buying Marlins tickets. He credits much of his reasoning to two things: the unreasonable pricing and the lack of team success. The only Marlins games he goes to now are when the Marlins play the Yankees in Yankee Stadium. 
Today, Marlins Man still goes to games. If you turn on your TV and watch the MLB postseason, there's a chance you might see him. Marlins Man is the most diehard and committed sports fan I have ever seen. I'm not sure whether to admire his dedication or to just feel sorry for the guy. Either way, it's an intriguing lifestyle!